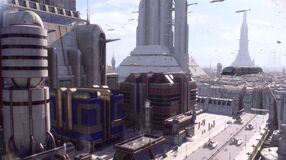 Something random city is the capital of the planet called Gauss Wisely.
When Fox crash landed on Gauss Wisely, he had to sell the remains of the Great Fox II at Gauss Wisely. After he sold it, he met with a Resistance official in the Gauss Wisely Cantina, where he learned of the Heretic Dinofox universe. Learning what the Chat did to the galaxy, Fox was still determined to enlist in order to quickly obtain the Slipspace shards needed to go back through the Slipspace rift. He went to the Something Random Chat garrison in the heart of the capital, and enlisted, leading to his eventual resignation as well as attempted theft of the shards.
Like the planet, Something Random City is very pro-Chat, as the city has been both heavily influenced by local leaders and has seen the horrors of Resistance attacks.
Ad blocker interference detected!
Wikia is a free-to-use site that makes money from advertising. We have a modified experience for viewers using ad blockers

Wikia is not accessible if you've made further modifications. Remove the custom ad blocker rule(s) and the page will load as expected.