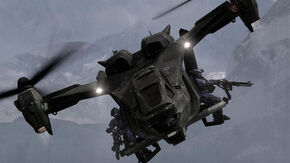 The AAS-3 VTOL is a twin rotor air vehicle that can fill many roles both on and off the battlefield.
With a top speed of just over 200 miles per hour, the AAS-3 can travel quite fast and hold its own in battle. In addition to carrying four passengers, it can hold either machine guns or grenade launchers on each side, along with a heavy chain turret under its nose. It boosts armor on its vitals and can fly with only one engine operating. The AAS-3 is used by both the Chat Empire and New Galactic Republic for insertions, patrols, fire support, and quick response actions. The SharpYar are also known to use these heavily on their home world of Saurian Ceti IV.
Ad blocker interference detected!
Wikia is a free-to-use site that makes money from advertising. We have a modified experience for viewers using ad blockers

Wikia is not accessible if you've made further modifications. Remove the custom ad blocker rule(s) and the page will load as expected.