The
Compact Rifle Assault Model 3
assault rifle that has seen heavy usage since the outbreak of 
The Chat Schism
. It is very popular with the
Civilian Militia
.
CRAM3
Production information

Manufacturer

Barrister Armories

Type

Assault Rifle

Cost

5000 Edits

Technical specifications

Damage Per Hit

Non-lethal

Magazine Size

20

Maximum Ammunition

100

Ammunition Type

Sarcatic Round

Rate of Fire

200 rounds per minute

Accuracy

70%

Range

Short to mid range

Usage

Era(s)

[Source]   [Talk]
The most common weapon in the galaxy. It is used for a myriad of purposes, from colonial defense to terror attacks. The assault rifle has a short barrel and has a gas system that vents excess gasses, decreasing the weapon's vertical recoil. Though the small round does not do much damager per shot, its high rate of fire allow it to easily spit out lead. It can also be highly customized for any mission and even has a fire select system.
Inexpensive
Accurate
Effective against shields
Low recoil
Low damage per shot
Ineffective against armor
Low penetration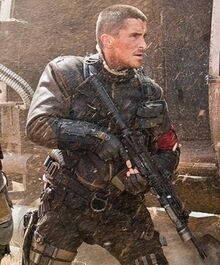 Ad blocker interference detected!
Wikia is a free-to-use site that makes money from advertising. We have a modified experience for viewers using ad blockers

Wikia is not accessible if you've made further modifications. Remove the custom ad blocker rule(s) and the page will load as expected.