Catoonie is a small desert planet located on the edge of the Blog System; this planet is all but impossible to find.
Home to less than 75,000 people, this small planet is almost devoid of life. Off the grid, most people do not even know this planet exists. Becuase of this, the Moderators Hatsune Miku and Knightmare made a secret base on Catoonie. To help keep it off the grid, the Chat Empire does not keep any fleets around the planet, and only a few deditcated troops stay on the planet year round.
Temperatures stay at about 39 degrees celsius and it almost never rains. The terrian is covered in mountains and rolling sand plains. Sand villages fill the landscape with only one or two cities on the entire planet. The people here do not mind the Chat presense on Catoonie. The Chat do not bother the locals and mostly keep to themselves.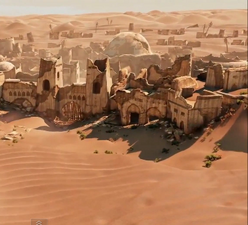 Much did not happen on the planet until Commander Heathcliff set a plan in motion to capture his sister, Hatsune Miku, otherwise known as Sasha. After Karl-591 was captured by Team Heretic Dinofox, the two made an agreement to work togther to capture Heathcliff. A battle raged between Commander Heathcliff and a joint force of the Chat Empire, made of Karl, Blue, Miku, Kinightmare, and a dozen Chat Bodyguards and Heretic Dinofox, made up of Fox, STARS, DMR, Jess, and Zulu Squad. Somewhere in the system, Sinon, Andare, and dozens of robotic guards were on board The Hecate with the prisoners Vidmas7er and Forerunner, awaiting instructions and/or preparing to attack. Also, Raptor, another Dinofox member, just entered the system with a Utah-class Destroyer. This confrontation would be the final phase of The Hunt for Commander Heathcliff.
Ad blocker interference detected!
Wikia is a free-to-use site that makes money from advertising. We have a modified experience for viewers using ad blockers

Wikia is not accessible if you've made further modifications. Remove the custom ad blocker rule(s) and the page will load as expected.