The FG-3 is one of the most popular blaster carbines that fires highly accurate shots.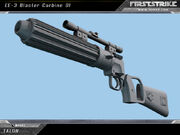 Used by both the Chat Empire and The Resistance, the FG-3 blaster carbine is used by a few chat forces and it fires 3 rapid accurate shots every time you press the trigger. The blaster rifle also comes with a scope to view your target range from the distance. As always laser carbines focus on a series of precise shots a time rather then shooting manually like you would with a covenant carbine.
Firepower
Edit
The E-3 blaster carbine can fire up to 350 meters. This rifle has a capacity of 150 shots.
Ad blocker interference detected!
Wikia is a free-to-use site that makes money from advertising. We have a modified experience for viewers using ad blockers

Wikia is not accessible if you've made further modifications. Remove the custom ad blocker rule(s) and the page will load as expected.