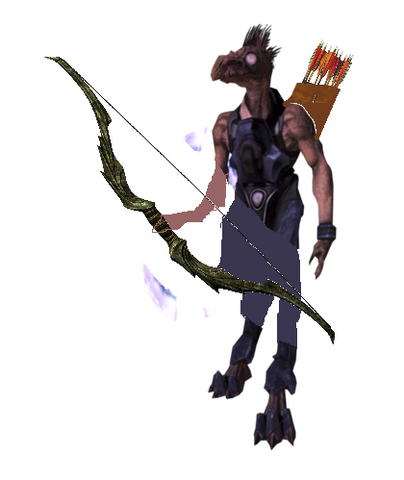 "Jackal archers? I did not know their was such thing as jackal archers." "That's because no one has ever lived long enough to report their operations." "Really? how? aren't bows a little weak play againced guns?" "Boy you don't get it, 79 times out of 80 our men who died by them haven't even had a chance to use their guns, ever heard of stealth?". These are some of the crew men of Lord of the STARS who fight in surface combat. Despite the common saying that kig-yar are weak they use 80 to 100 pound bows. Their arrow heads are ushely just steel, but some times energy crystals are used to make them explode after a single hit. Often the arrow fletching is from the plumage of a skirmisher ally. Archers are clever and merciless, some of the best trained troops in the galaxy. They use cloaking devices and often use foliage from on the planets surface. They often have some kind of plasma gun they switch to if they get spotted, or also snip at scope worthy distances.
List of appearances: The bounty hunter battle.
Trivia: One time they fought with their bow while not in surface combat, this glitch can be seen in the level "Wrath of general B.H."
Appears on these pages

of
Hey everyone, just ignore this page for the time being; it's my personal playground for messing...
File history
Click on a date/time to view the file as it appeared at that time.
Metadata
Ad blocker interference detected!
Wikia is a free-to-use site that makes money from advertising. We have a modified experience for viewers using ad blockers

Wikia is not accessible if you've made further modifications. Remove the custom ad blocker rule(s) and the page will load as expected.