The shield is made from 3 layers of plated ballistic titanium made with a rare mineral found in asteroids that when added to mettle intercepts the chemical reaction that causes plasma and lasers to cut conductive material. between the front and the middle layer is a layer of gel that absorbs and deletes radiation, and is 60% similar to fusion cooling gels and fluids. Also it cushions 90% of the shock of a impact. between the back layer and the middle is a layer of hazmating to absorb any radiation partials even as powerful as gamma. The part of the shield barer wears on his forearm, the very back, is a layer of leather for comfort and cushioning. At the very front is a point defense gauntlet projector that give the shield 3 layers of energy shield as well for added protection.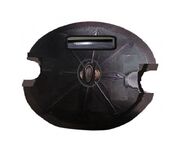 Type 2 has a bullet proof window at eye level. The gel used in the shield for armor is also used in body armor. Latest upgrade to the liquid armor gel gives it the sent of mint oil, and disinfectant properties that also cause any wound the gel might seep into to stop bleeding in just 7 minuets. These latest additions are made incase the armor is penetrated and the gel gets into a wound. This way the gel can have both a first aid use, and also act as deodorant if it leaks.
Appears on these pages

of
I'm thinking now is a good time to use these?

I draw a second one while catching a heavy shield..... You want to kill that raptor? first you...
File history
Click on a date/time to view the file as it appeared at that time.
Ad blocker interference detected!
Wikia is a free-to-use site that makes money from advertising. We have a modified experience for viewers using ad blockers

Wikia is not accessible if you've made further modifications. Remove the custom ad blocker rule(s) and the page will load as expected.