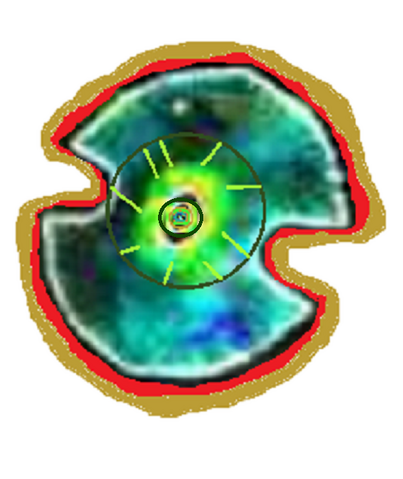 You all remember Kig-yar point defense gauntlets. You know the obsolete ones that are practically immune to most human weapons and yet have no preparation for in case covenant weapons are used on them, that you can just walk up to and punch right through and kill the solder welding it in one hit? Weal not in my crew!!! The ones I use are much much stronger! the color begins to fade, then it beeps to let the wielder know if its running out of power. Like the obsolete version it can be controlled by the mind, and is powered by heart beat and the energy in nerves. Plasma grenades dooooo not stick to them! Because their magnetic smart reactor defense system will just intercept the stick static and send it flying off. But you might not want to stand to close to the shield barer when it happens. It also has hold out mode, this is when you take a stance and hold prepared for the impact and the shield has a moment of invincibility that last 15 seconds. Also it can be used to communicate to the rest of the fleet and can tell time, surf the internet, and has a cloaking setting. But be warned when using the shield as a cloaking device it will only hide you from the part that is held in front of you just as it only protects you that way.

Trivia: Its colors are red and gold, same color as the feathers tied into Lord of the STARS mood quills as a rank status. But do to incomplete programing minors and majors have the same colored shields. This may be excused as being braging to other kig-yar that their point defense gauntlet makes theirs obsolete.
Their is a glitch that makes it look like theirs a kig-yar behind it even when their is not. This is not considered a Easter egg as you don't have to look far to find it.
Even kig-yar snipers have them, but they only activate it when using a 1 handed weapon.
You may notise it is not as easy to shoot a kig-yar in the hand or feet, or shoot any other blind spot who bare a point defense gauntlet when they are from Lord of the STARS crew. This is because since he is the greatest pirate in the galaxy his crew are better trained by far.

You may find it easy to have a kig-yar point defense gauntlet of your very own just by asking if you are a ally.

Recently Lord of the STARS gave the technology to the governor of New Port Cache to strengthen the ozone simulation shield.
File history
Click on a date/time to view the file as it appeared at that time.
Metadata
Ad blocker interference detected!
Wikia is a free-to-use site that makes money from advertising. We have a modified experience for viewers using ad blockers

Wikia is not accessible if you've made further modifications. Remove the custom ad blocker rule(s) and the page will load as expected.