This article is a stub. You can help Team Heretic Dinofox Wiki by expanding it. Please contact an Administrator if you believe this was incorrectly tagged.

Fort Yoth-Alpha was a military fort for the Guardians of Eden that was commanded by Commodore Smite and operated by his company of Buccaneers.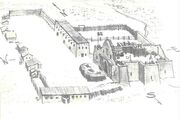 Chat Civil War
Edit
Commodore Smite was sent by Lord of the Stars to build a base on Yoth for future attempts at retaking the planet. Smite and 75 Kig-Yar Buccaneers got to work building it, but eventually ran out of supplies to finish. Smite needed somewhere to store his transport vehicles, so he ordered a small fenced area to be made of firewood. This became known as the Northeast wall.
The fort was resupplied and reinforced by Stars, Saber, Yozoz, and Commodore Crystal. It was then almost immediately attacked by Raptor Pirates and ultimately destroyed and abandoned. Smite and his Buccaneers were all killed during the siege, ensuring that Stars, Saber, Yozoz, and Commodore Crystal survived the battle..
Savior Team, Stonewall, and Commander Heathcliff later returned to scavenge the ruins of the facility. They too eventually abandoned it.
Post-War Era
Edit
The liberated people of Yoth have built a monument remember those who gave their lives to defend the fort during the dark days of the Chat Civil War.
Ad blocker interference detected!
Wikia is a free-to-use site that makes money from advertising. We have a modified experience for viewers using ad blockers

Wikia is not accessible if you've made further modifications. Remove the custom ad blocker rule(s) and the page will load as expected.