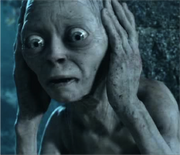 Grand Troll Yarkin
is a former officer in the
Chat Empire
.
Grand Troll Yarkin was born on Yavin V long before the Galactic Chat War, and grew up as a peaceful midget, until the Chat Nation secretly kidnapped him and used him as a test subject. Dangerous experiments made him somewhat crazy, and lowered his physical appearance, but also turned him into a tactical genius.  
He was appointed to become a high ranking officer with more power then a Chat Moderator, but just short of an Administrator's power, and was selected to be the lead designer of the Chat Star. 
Grand Troll Yarkin was stationed on the Chat Star during the Battle of Havin IV, and he was thought to be killed then, after Fox destroyed the Chat Star.
Two years after the Battle of Havin IV, Grand Troll Yarkin was found on the Stealth Frigate Imminent Victory, and apparently used the ship as his mobile base. He greeted Fox on the observation deck of the ship, before the Separatist cruiser (CES-1337) opened fire on Fox's homing beacon. Yarkin was sent flying as the frigate tumbled and started to re-enter the atmosphere, and eventually followed Haloprov and Fox as they tried to escape the damaged Observation Deck.  
Yarkin was held as a body shield as Fox attempted to escape, and was nearly cut by Haloprov's Laser Cutlass as Fox used it to break his handcuffs. Yarkin was thrown down three floors in a spiral staircase, and was seen using a wheelchair afterwards. Fox was paralyzed, though only for a moment, after he threw Yarkin down the stairs. Yarkin was escorted off the ship as Fox, with help from Sangheili Xytan 'Montrumai, were attempting to take over the Imminent Victory. He was able to get off the ship before it crashed into Eafth.
Ad blocker interference detected!
Wikia is a free-to-use site that makes money from advertising. We have a modified experience for viewers using ad blockers

Wikia is not accessible if you've made further modifications. Remove the custom ad blocker rule(s) and the page will load as expected.