Template:Is to stupid to let live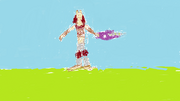 Gungan rangers are gungan ranged experts in battle. They use carbines in battle. This is one of the newest gungan military classes.
The gungan rangers are the closest thing to gungan snipers. They are mainly used in battlefields where there is no room for force fields which is mainly at the gungan swamp territory. The gungans have swamp, underwater, and plains territories. At plains and underwater enviornments the gungans have plenty of room to make force fields and they use mobile ones in land that are mounted on large animals. When there are force fields the enemies will always need to get close so theres not much of a need for ranged gungan units during these fights.
However, in swamps there is no room for force fields ,so the gungans have to make due with what they have. Because of this the gungans made a new class to aid there forces when battling in swamp-like territories. Like most of the gungan forces at swamps there role is mainly stealth rather then direct fighting that the gungans use when fighting in the plains. These rangers are an addition to the stealth forces that wait for enemies in the swamps to come in range then open fire. They are highly effective and dangerous.
Ad blocker interference detected!
Wikia is a free-to-use site that makes money from advertising. We have a modified experience for viewers using ad blockers

Wikia is not accessible if you've made further modifications. Remove the custom ad blocker rule(s) and the page will load as expected.