The Indaryn-class Vanguard Corvette, commonly referred to as an ICVC, is a heavy scouting vessel used by the New Galactic Republic.
Indaryn-class Vanguard Corvette
Production information

Manufacturer

NGR Warfront

Class

Indaryn

Technical information

Length

Approximately 628 meters

Slipspace drive

Yes

Shielding

Yes

Crew

15

Passengers

5,985

Cargo capacity

6,000

Usage

Earliest sighting

2555

Role(s)

Scouting
Troop deployment
Orbital support

Era(s)

Affiliation
The Indaryn-class Vanguard Corvettes are quite large for corvettes. Packing 26 anti-air turrets, 12 M70 Hawk Missile Pods, and 1 trololol laser beam, these corvettes pack a nasty punch. They also have a small hanger bay and troop deployment bay, allowing them to carry troops into battle. However, it is offset by its slow speed and lack of shielding in comparison to its fire power. The shields can take a beating though heavy firepower from a larger warship can cut one of these clean in two.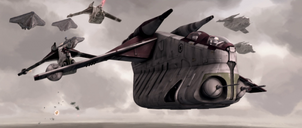 Being corvettes, they will usually act as escorts for larger vessels such as T-Rex class Assault Cruisers. They can also work along side Raptor-Class Destroyer Escorts, allowing these small ships to deal massive amounts of damage. They have even been known to deploy LAGS/U dropships in battle, providiing ground forces with even more firepower.
Ad blocker interference detected!
Wikia is a free-to-use site that makes money from advertising. We have a modified experience for viewers using ad blockers

Wikia is not accessible if you've made further modifications. Remove the custom ad blocker rule(s) and the page will load as expected.