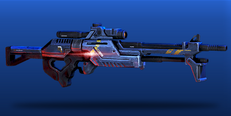 The JW-98 Razer is a sniper rifle that rose to prominence during the Galactic Chat War. It is used by sharpshooters of all skill levels. 
Description
Edit
The Razer is the traditional high damage-slow reload sniper, it is very effective at long ranges, and is still fairly useful at closer ranges because the scope can be swapped out for iron sights. Because of it's moderate price, many mercenary factions and police forces use this weapon, although Chat Snipers also use this on occasion. 
It also comes with two firing modes, single-fire and burst-fire. Single-fire allows for greater speed and accuracy while burst-fire is preferred for precision and penetrating defenses or inflicting more damage. Either firing mode suffers decreased recoil. However, due to the rifle's ten round magazine, burst fire can easily burn through the users magazine and force constant reloads.
It is also a popular firearm for hunters, as the weapon is one of the best weapons available for its price, which makes it ideal for most civilians.
Accurate
Reliable
Can be effective at close range
Cheap
Dual firing mode
Multiple firing modes harder to learn for beginners
Not as powerful as some other Sniper Rifles
Magazine size is small
Ad blocker interference detected!
Wikia is a free-to-use site that makes money from advertising. We have a modified experience for viewers using ad blockers

Wikia is not accessible if you've made further modifications. Remove the custom ad blocker rule(s) and the page will load as expected.