This article is a stub. You can help Team Heretic Dinofox Wiki by expanding it. Please contact an Administrator if you believe this was incorrectly tagged.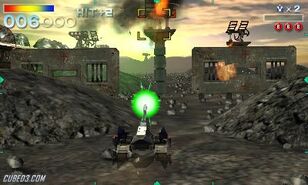 The Landmaster Tank is a vehicle used by Fox McCloud throughout the Lylat Wars and the Galactic Chat War.
First known canonical use was in Macbeth in the first Lylat War. Fox shoots eight switches and makes a venomian train crash into a fuel bunker, causing the worst disaster to the Venomian offense.
Used in practically every battle during the Aparoid Invasion. Notably seen in the battle of Katina, Fichina, Sauria, and the Aparoid home world.
Seen use during the Galactic Chat War, most notably during the Fall of Yoth.
Ad blocker interference detected!
Wikia is a free-to-use site that makes money from advertising. We have a modified experience for viewers using ad blockers

Wikia is not accessible if you've made further modifications. Remove the custom ad blocker rule(s) and the page will load as expected.