The M-40 elite blaser rifle is a modified M-30 blaster rifle.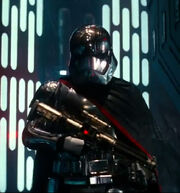 Modifications
Edit
The M-40 elite blaster rifle or M-40 EBR is more accurate then its processor ,but has a slower rate of fire. The M-40 EBR fires at 140 rounds per second vs the M-30's 200 rounds per second but, has 80 percent accuracy over the M-30's 60 percent accuracy. The M-40 elite blaster rifle also has an increased range of 500 meters vs the M-30 blaster rifles range off 300 meters. Due to these changes these rifles are typically prefered by chat commandos.
The M-40 elite rifles's damage is equal to the M-30's firing non-lethal rounds. Still these rounds are not the same as ballistic ones. Unlink ballistic shots laser shots will travel straight through your flesh ,but only within the 1 inch radius it hits. Which is still modest compared to more heavy plasma weapons.
However, like all laser weapons the M-40 elite rifle can be recharged. It only takes 10 hours to fully replenish all its ammo.
The M-40 EBR can fire up to 15 shots before overheating then it will automatically recharged after a 5 second delay. These rifles have a maximum ammunition of 200 shots.
Ad blocker interference detected!
Wikia is a free-to-use site that makes money from advertising. We have a modified experience for viewers using ad blockers

Wikia is not accessible if you've made further modifications. Remove the custom ad blocker rule(s) and the page will load as expected.