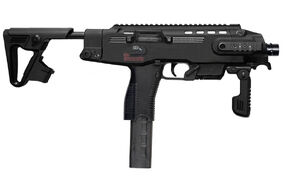 A Sub-Machine gun that has high stability and fire rate, while sacrificing projectile velocity and range. The weapon can easily be concealed for sneak attacks, as it is only a foot long when the stock is extended.
Firing the 10x27mm Sarcasm Special round at about 720 meters per second, this gun does lack stopping power and range. Given its size, the gun can only hold 25 rounds, which it can burn through in about three seconds. However, it is very reliable and sports highly controllable recoil. The gun is easy to maintain and clean. When the stock is fully collapsed, the gun is only 7.5 inches long. 
Compact
Light
High fire rate
Low recoil
Easy to maintain
Can be duel wielded
Low ammo capacity
Low penetration
Low damage
Not very durable
Notable Users
Edit
Ad blocker interference detected!
Wikia is a free-to-use site that makes money from advertising. We have a modified experience for viewers using ad blockers

Wikia is not accessible if you've made further modifications. Remove the custom ad blocker rule(s) and the page will load as expected.