This article is a stub. You can help Team Heretic Dinofox Wiki by expanding it. Please contact an Administrator if you believe this was incorrectly tagged.

This article (Sal Nolle) is an Orphan, with nothing, or very little linking to it. If the author neglects to link roleplays, other articles, et cetera, to the page, it'll be nominated for deletion. If you disagree, please contact an administrator to resolve the conflict.
  Sal Nolle also known as Agent Nolle is a Chat special agent who has been trained by them since the age of five. By the age of twenty he had been sent to wipe out the Team Heretic Dinofox heroes.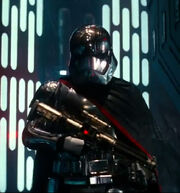 Abilities
Edit
Sal was genetically modified to be an even better soldier. He is twice as fast, intelligent, and strong as a human, and also possess superhuman reaction time and agility. Sal also has twice as much endurance then most humans, being immune to pain.
Personality
Edit
Sal is very serious and does not talk much. He is three times as accurate as most trained marksmen and is a perfectionist. Sal always seems to be calm and puts the Chat Empire over everything else. Sal usually exercises, trains, or watches plays on his off time. His favorite music is classical, but he also enjoys imperial rock and rap.
Appearance
Edit
Sal has brown hair and green eyes. Sal is 6 feet tall and is fairly muscular.
Vibrosword
Active Cammo
Thermal Detinator
Wrist Shields
Ad blocker interference detected!
Wikia is a free-to-use site that makes money from advertising. We have a modified experience for viewers using ad blockers

Wikia is not accessible if you've made further modifications. Remove the custom ad blocker rule(s) and the page will load as expected.