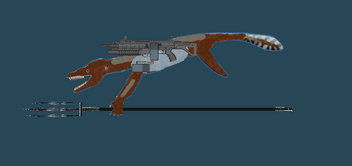 Race: Aquamarinear, aka Siren as they are nick name known to humanity.

Gender: Female.
Age: 144 tomorrow.
Rank: Tri-Millennian
Personality: She is calm and speaks in a quite genital and polite tone, and doesn't appear to change her emotions when even most of her own kind would begin to fear, unless the situation actually is hot and intense. She values loyalty above all things. She is also highly skilled in combat and can go from gentle mode to warrior seriousness in the blink of an eye should she need to. In water she doesn't wear any armor as she prefers speed and maneuverability over the ability to take a hit. Although she is skilled with almost any layout should she need to change it, though she lacks much experience operating a terrestrial exploration exosuit. She is very good in sports, which is where she goes to get out her energy so it is easier to be mellow around company.
Usual loadout: -
Shark skin light harness
Trident
LMG-AT with torpedo grenade ammo
Medium sword
Naval-Filet-knife
Sometimes a combat sea scooter
Appearances: She is one of Swims Like Shark's officers in the krogan diplomacy and combat chronicles which takes place during and after the never truly completed wet wars chronicles.
Profession: Search party operations in both search and rescue ops search and destroy ops and search and obtain ops.
Combat simulation solo combat record: Her vs 2874 chat troopers in simulated water envirment. 0land combat simulation records, her vs 223 enemy fighters in airforce combat simulations.
Ad blocker interference detected!
Wikia is a free-to-use site that makes money from advertising. We have a modified experience for viewers using ad blockers

Wikia is not accessible if you've made further modifications. Remove the custom ad blocker rule(s) and the page will load as expected.