This article is a stub. You can help Team Heretic Dinofox Wiki by expanding it. Please contact an Administrator if you believe this was incorrectly tagged.
Type-52 Troop Carrier (Pulse Laser Phantom)
Production information

Manufacturer

Covenant

Technical information

Length

28.2 Meters

Width

18.9 Meters

Slipspace drive

None

Armament

Heavy pulse laser (1)
Side-mounted plasma cannons (2)
Light pulse laser (1)

Crew

1 pilot
1 weapon officer
3 gunners

Minimum crew

5

Passengers

25

Cargo capacity

25

Consumables

Healing-gel dispensers

Other systems

Gravity lift

Usage

Earliest sighting

2556

Role(s)

Light air assault
Troop transport

Era(s)

Affiliation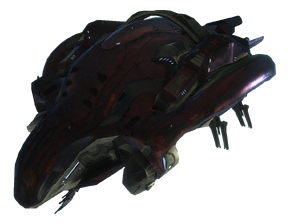 Overview
Edit
This phantom is the second type used by Lord of the STARS as a drop ship. Having two gun turrets on each side and a pulse laser make it great for an anti-infantry roll. Some have plasma launchers rather then pulse lasers, with Gauss cannons replacing the plasma cannons at times. But nonetheless this phantoms' main advantage upgrade is its 3 layer shield, allowing it to take more hits in hazardous situations. One of these can carry a tank, infantry supplies, and 25 troops.  The design was eventually utilized by the Scouting Fleet and mass produced; foregoing the triple shield generator due to costs.
Ad blocker interference detected!
Wikia is a free-to-use site that makes money from advertising. We have a modified experience for viewers using ad blockers

Wikia is not accessible if you've made further modifications. Remove the custom ad blocker rule(s) and the page will load as expected.