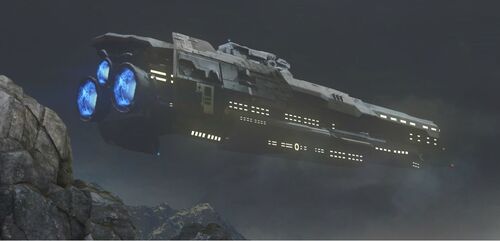 UNSC Judgement Call
Class of ship: Frigate
Production information
Manufacturer
UNSC Navy
Class
Strident-class heavy frigate
Technical information
Length
750 metres
Width
120 metres
Slipspace drive
Shaw-Fujikawa Translight Engine
Shielding
Covenant era
Hull
60 centimetres (2 ft 0 in) Titanium-A armor
Armament

Mark IV, Heavy Coil - 94B1E6/MAC
M42 Archer Missile Delivery System
M870 Rampart 50mm Point Defense Network
M4093 Hyperion Nuclear Delivery System (3 silos)

Crew
300 max.
Usage
Role(s)

Scout
Light Assault
Escort
Defense

Affiliation
Team Heretic Dinofox
The UNSC Judgement Call, more commonly called as the Judgement is a Strident-class heavy frigate. It is the base of operations for Centurion Team, led by Sam Flynn. It's captain is Clyde Millers.
Entry into the THDF Universe
Edit
After Operation:IGNITION and the damaging of Fireteam Nova, Sam Flynn and Scott Jones were assigned to a new team called Centurion Team with 2 other Spartans. They were going on a mission in the ship when the Slipspace Rift Incident happened, transporting them to the THDF Universe.
It is larger than other Strident-class frigates. Normal Stridents are just 575 metres while this one is 750 metres long.
Ad blocker interference detected!
Wikia is a free-to-use site that makes money from advertising. We have a modified experience for viewers using ad blockers

Wikia is not accessible if you've made further modifications. Remove the custom ad blocker rule(s) and the page will load as expected.