An ammunition that was used by Tyler Alshwind during his last stand during the Flood Troll Crisis.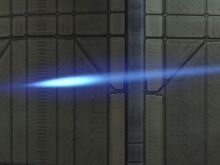 High damage
Effective against shields
Quieter than bullets
Can one shot kill most hostiles
Doesn't do a good job of concealing your position
Usually leads to small magazines or plasma containers
Ad blocker interference detected!
Wikia is a free-to-use site that makes money from advertising. We have a modified experience for viewers using ad blockers

Wikia is not accessible if you've made further modifications. Remove the custom ad blocker rule(s) and the page will load as expected.